The Jack Kerouac ROMnibus
The Dharma Bums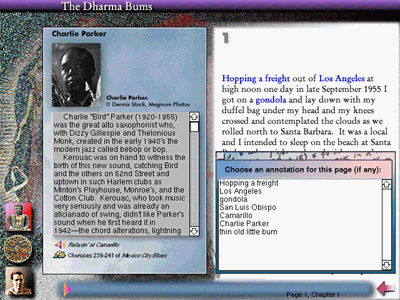 The book (above) featured over 400 pages of text. The book text appears on the right hand side of the screen, with an illustration (unique to each chapter) on the left hand side. Annotated text is in blue. Clicking on the text brings up the annotation window (left) or you can open an annotation list window (lower right) and view the annotations on the page that way.
Navigating within the book is done by clicking and dragging the arrow at the bottom left of the page. Clicking the arrow once advances one page. Dragging moves multiple pages. The arrow at bottom right takes you back to the last page(s) you have viewed.
Clicking the Mandela button (middle lower left) brings up the list of annotations (below.) Here you can view a list of all the annotations. Clicking on the title of the annotation displays the annotation, while clicking the button beneath the annotation jumps you to the place in the book where it occurs.
| The Dharma Bums | Archive | The Beats | Timeline | Gallery |